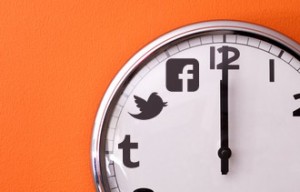 Social media has taken a front row seat within the channel marketing arena. It not only plays an integral role in lead generation, awareness building and nurturing, but the benefits of social media simply can't be denied.
We recently dug into the powerful impact of social media with this infographic. Among its most striking facts: Nearly 90 percent of SMBs say that social media helps their business and, after spending just 6 hours per week on social media, 74 percent of brand marketers see an increase in website traffic.

If you haven't started already, it's time to take social media action. Be sure to read 6 Steps to Getting Started with Social Media, which is packed with easy-to-understand insights you can use to kick off your social media outreach.
To Post or Not to Post? Your Cadence Determines the Answer
Once your social media efforts are underway, you may find yourself asking the question: Just how often am I supposed to be Tweeting, blogging or posting to Facebook, LinkedIn, and other social media sites?
Too few posts and your message may not reach its intended audience. Too many and you run the risk of annoying prospects and customers, which can actually damage relationships and undermine your outreach efforts.

What to do?
You need to build trust with your audience by consistently providing high-quality, relevant and engaging content – and you must set a social media cadence. Cadence is simply the timing frequency of your social media outreach. Establishing a social media cadence will help you determine the right number of posts and Tweets for your business.
The Answer Lies Within
I'd say that's a tad bit dramatic. But, while the resources below will prove useful in setting your social media cadence, no one knows your audience or business better than you. Take time to determine the best social media cadence by measuring interaction levels, such as likes, comments, shares and more from your audience.
A Guideline for SMBs
As well as the infographic below from SumAll and Buffer, which serves as a great guide for SMBs, the marketing experts at HubSpot also recently published an informative blog post around their 2015 Social Media Benchmarks Report. The report sheds more light on the metrics associated with social posting, following and social engagement specific to company size, industry, etc.



Originally posted on Channel Chatter by Alex Pethick, Zift Solutions Online Marketing Manager