This feature is not available in all solutions. For more information, contact your supplier point of contact.
Zift123 helps you create a more collaborative sales process by automatically assigning and distributing qualified leads via intelligent email workflows, or direct leads into the CRM system you already use.
You will receive the data and insight you need, when and where you need it. All leads are delivered reliably along with relevant details, like profile data (name, company, etc.) and lead history (campaign, emails opened/clicked, website views, etc.) to help you establish rapport, nurture prospects, and close more deals.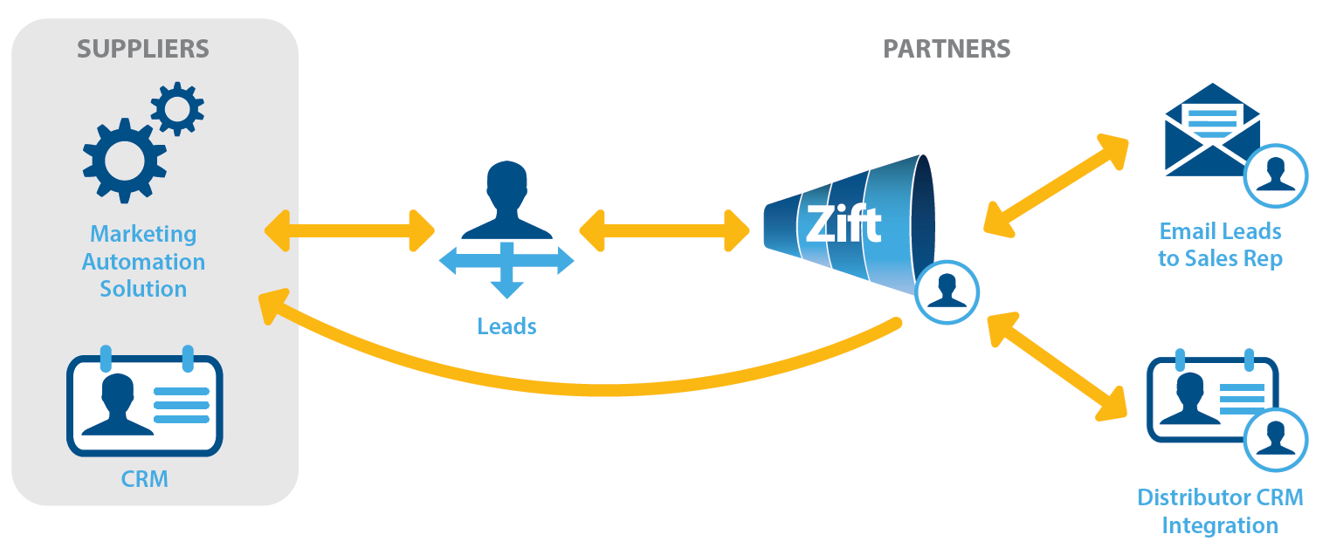 When your supplier is distributing leads to you, you will need to decide how you will manage or work your leads. Common methods of lead distribution are email, your CRM, or the Zift123 Message Center. You can also see your leads in Contacts > Distributed Leads. The lead information will include supplier provided data, event history, and custom attributes.
Depending on your supplier model, you may be able to accept or reject leads and/or assign accepted leads to lead owners and sales reps. Lead owners and sales reps will then be able to move leads through the different identified statuses of the sales funnel by changing the status on leads.
The Lead Distribution feature also gives you the opportunity to share information with your supplier. When you share this data, your supplier can gather valuable data about leads from beginning to end with lead follow-up, tracking, and analysis.
In this article, we provide the steps necessary for Lead Distribution set-up.
Prerequisites
You should be familiar with the following topics before continuing:
Zift123 Username
Zift123 Password
Review Settings
Find and manage your distributed leads
There are three places to find leads in Zift123 depending on your established workflows: email, message center, or Contacts > Distributed Leads.
Accept and reject leads from your suppliers.
Assign Leads
Assign leads to Sales Reps, who will follow up with the lead in an effort to provide services or products. Verify that you have a user identified as a sales rep in Settings.
Change Lead Status
Change the status of distributed leads to indicate their progress through the sales cycle.
Optional: Link Your CRM
With Zift123, you are able to integrate distributed leads information. When you use the integration, Zift123 syncs status information on distributed leads/opportunities and new marketing leads/opportunities that you wish to share with your supplier.