Overview
The contact represents an individual person with specific demographic information. The unique identifier for the contact is their email address. To access the Contact Details view:
Navigate to Contacts.
Select a contact from the list.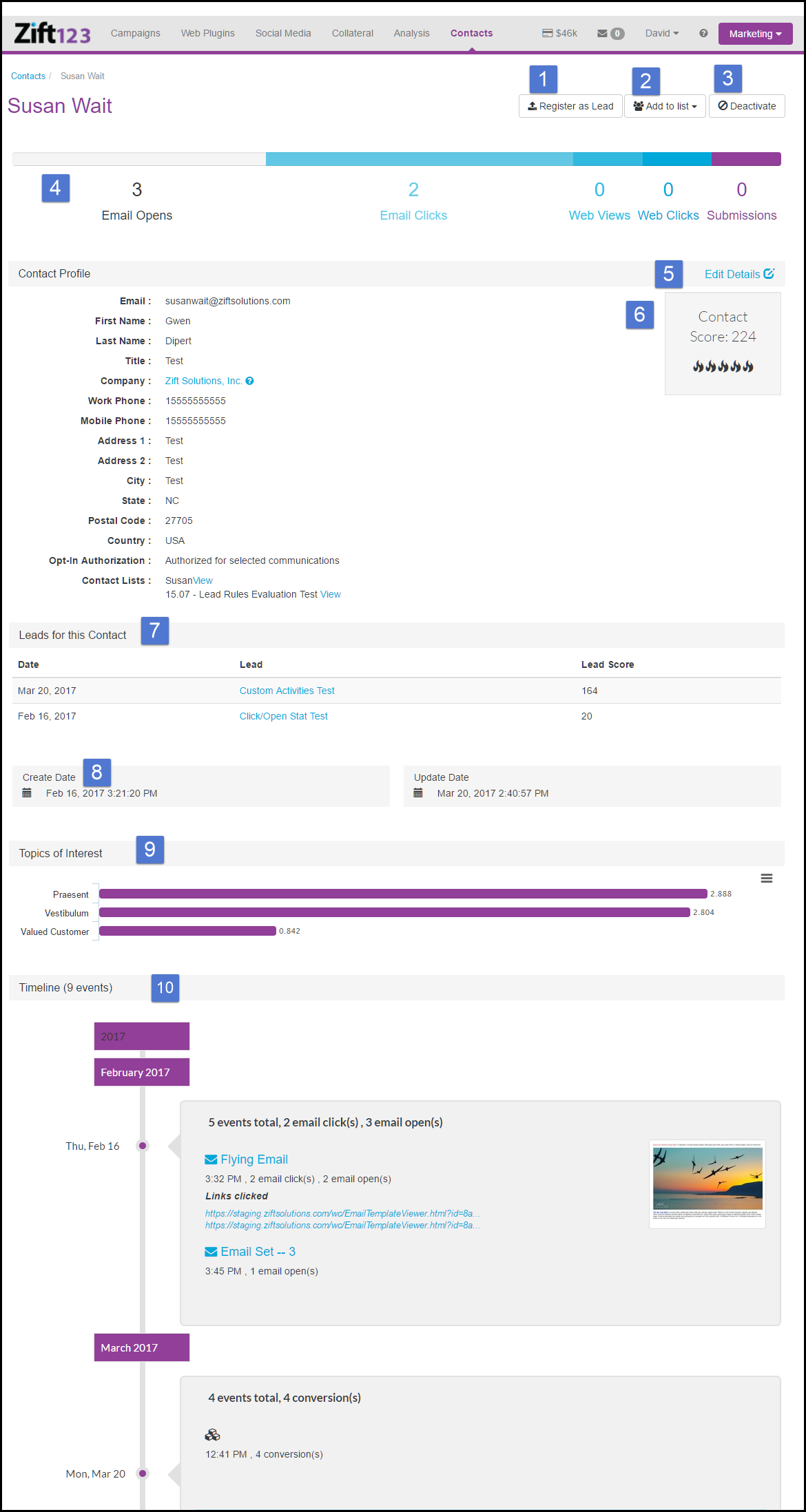 In the Contact Detail view, you can do the following:
Register a contact as a lead.
Add contacts to a contact list for targeted marketing communications or segmenting your audience.
Deactivate the contact. This will remove the contact for all future communication.
Review contact interaction with marketing efforts.

Email opens - Email Opens refers to email open rates. Email opens is the number of times a recipient of an email sent from Zift123 was opened. Open rate is calculated as follows Emails opened /emails sent - bounces = open rate.
Email Clicks - The number of times the recipient of the email clicks or views a link in an email sent from Zift123. The more clicks the email receives the more successful we consider it.
Web Views - The number of times the email recipient clicks the call to action. The recipient viewing/clicking a link and viewing the associated web page is considered a web view.
Web Clicks - When someone clicks your ad, it counts as a click. Click-through Rate (CTR): tells you how many people who've seen your ad end up clicking on it. This metric can help you gauge how enticing your ad is and how closely it matches your keywords and other targeting settings.
Submissions - The number of form submissions through an email landing page (gated asset. event registration, etc.), a web plug-in (gated asset, contact us, etc.), or a social form.

Edit Details for the contact such as company name.
Contact Lead Score.
Leads associated with this contact including date, lead, and lead score for the interaction.
Create and update dates for this contact that indicate interaction with the marketing activity.
Topics of interest - Topics of Interests is an automated feature that enables us to view contact interest by topic. The topic is automatically tracked and does not require setup.

We have integrated with the Yahoo Content Analysis API, to dynamically assign topics to pages, assets, offers, widgets, and campaigns. As contacts interact with these materials, they are building a topic pattern and story within our tracking system.
Zift123 can display a contact's topics of interest based on URLs the contact has visited, terms they have searched for, and other metadata that Yahoo has collected on the contact.
Partners can make decisions about how to interact with the lead and which campaigns or other marketing activities should be executed. Partners can quickly view a contact report and know which industries, products, business needs, and solutions may be of interest, based on their topic tag history.
The topic score is a relative value of the content. The higher the content is on the list the more value it has.
Lean more about the natural language processing relationships in your unstructured data.

Timeline of events - The timeline includes all the interactions for this contact. Interactions include the following:

Inquiry - This includes scored lead events such as email open, web click, social share, etc.
Leads - This includes leads based on standard Zift lead definitions (score of 15 for minimum lead threshold)
MQL (Marketing Qualified Leads) - This included qualified leads based on your lead definitions (score of 50 = "hot lead")
SAL - Sales Accepted Lead - This includes the following:

accepted, distributed lead
lead with an associated opportunity
registered lead
lead assigned to the sales rep
lead with status Open, Contacted, Nurture, or Qualified Opportunity
lead with status Unqualified/Invalid if it was previously set with status Open, Contacted, Nurture, or Qualified Opportunity

Clicking on the event shows, even more, details for this lead with the specific event including open rate, click through rate, bounce rate, and unsubscribe rate for this event.
Note, if the supplier has chosen to share analytics with the partner, the data will appear here. Shared Analytics allows channel partners to leverage activity on the supplier's website to drive sales. Contact your Zift point of contact for additional details.