Overview
An email workflow is series of automated emails that will be sent — or not — based on a person's behavior or criteria. With workflows, you can trigger emails based on your recipients' actions. This allows you to send the right message to the right person at the right time.
Workflows can be set up in two ways; they can be part of a campaign or a published workflow can be added to an existing campaign. In either case, administrator access is required for the initial setup.
Most workflows are based on action triggers, such as clicking on a link or submitting a form. In these cases, emails in the workflow are triggered automatically when your contact clicks on a previously-sent email, submits a form, or takes another specified action within the workflow. Action-triggered workflows calculate the time sent of each email based on the time sent of the previous email in the series. Workflows use your operating system time when calculating times. So you don't need to do anything to schedule them! You will need to activate the workflow to get it started.
FYI: Zift services processes workflows every three hours. Any steps less than three hours between steps will have adverse results and is not recommended.
The more you personalize your content, the more likely the recipients are to respond. In the majority of email templates, you have the ability to edit, revise, and personalize emails with your business information and other preferences. Please note that personalization options are not available in every template. Once you have edited details and personalized your email, you have the ability to preview your changes in desktop, mobile, or tablet view. Once everything looks good, send a Test email to yourself. This gives you the opportunity to see how your users will see your email.
Prerequisites
You should be familiar with the following topics before continuing:
Zift123 Username
Zift123 Password
To customize the visual style and content, do the following: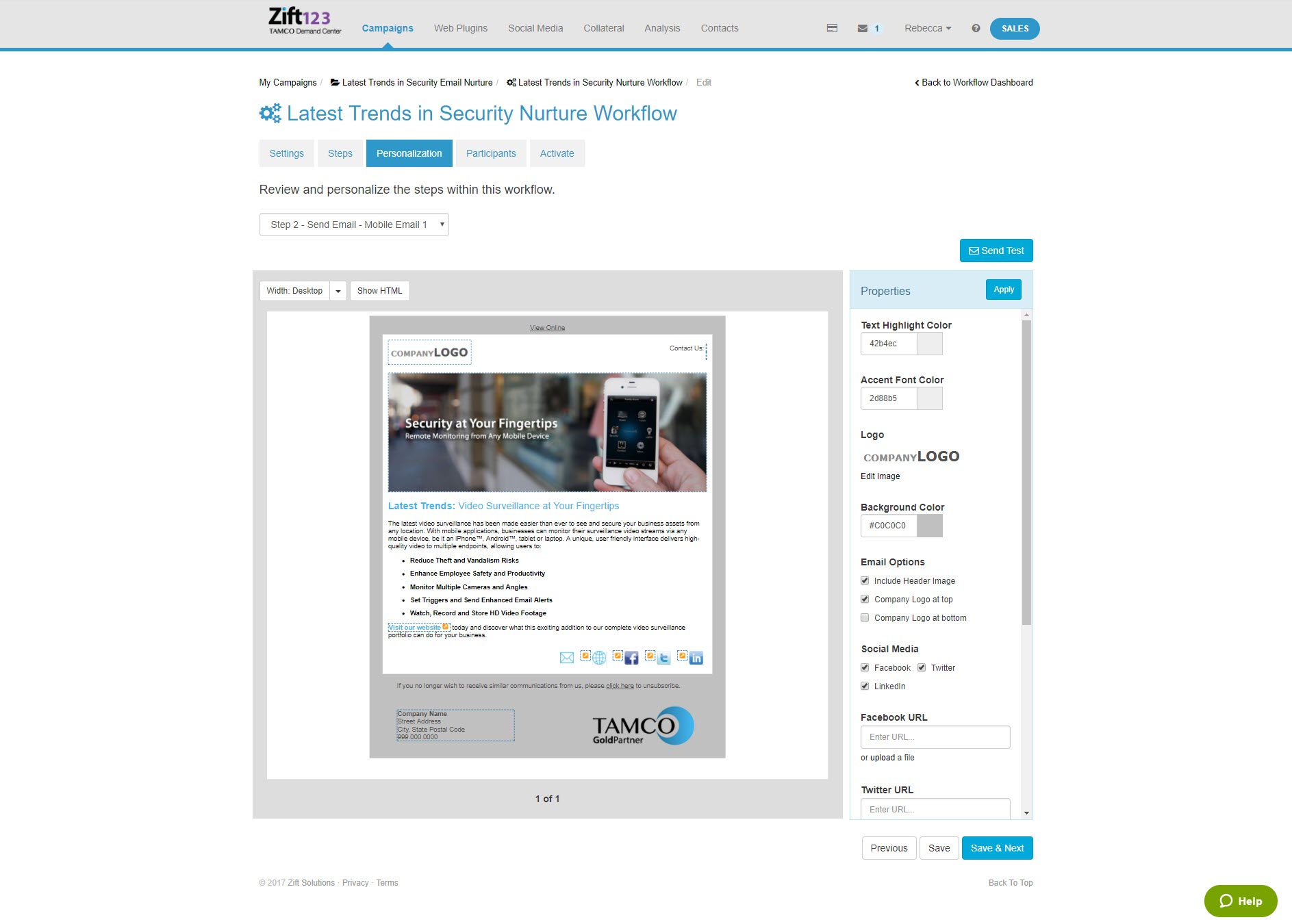 Access the Workflow Wizard for your campaign.
Select the Personalization tab. Note that not all workflows can be personalized.

Edit any fields inside of dotted-line boxes. Areas that can be edited vary by partner. Here are a few examples: Logo, Value Proposition, Company Name, Company Address, Company Phone Number, and Company Website URL.
Edit or add items in the Properties box such as Social Accounts, Social Account URL, Terms of Use statements, Privacy Statement, button colors, and data privacy policy are examples that you may find here. These options vary based on need.

Select Apply to see the changes. Complete this process for all emails and all parts of the campaign using the drop-down above the email preview.
Select Save. Once you have finished personalizing, review the changes as they will appear on a smartphone, tablet, or desktop. This gives you the opportunity to view the collateral and correct errors.
Additional Information